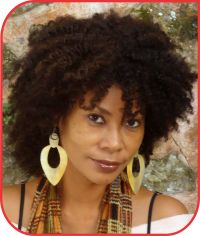 Madeline Ledan, Haitian stylist gifted with magic fingers, was first fascinated by sculpture at an early age. Throughout her childhood, an irrepressible itch drove her to redesign, rebuild and embellish everything she could lay her hands on.
Her skills for sewing, though innate, like any artistic expression, were certainly inherited from her mother, a talented dressmaker, who has always been her great accomplice in all her achievements. Thus her mother, Mrs. Edith Ledan, has fueled her creativity by bringing her to all artistic activities that were made at Holy Trinity School in Port-au-Prince, and by encouraging her to take painting courses with Tiga, reference in the art of painting in Haiti.
Madeline Ledan continued her career and spent several years in the U.S. where she gained a strong background in haute couture and fashion design, particularly the "Maison Sapho", French School in Manhattan, and Lindsey Hopkins Technical Education Center in Miami.  Since then, she regularly attends seminars in various areas of fashion.
Talking of Madeline Ledan by simply evoking her student years as a designer in the U.S. would present only a vague idea of an imaginative and meticulous person. She complements her genius through hard work that leads her to focus not only on the whole, but also on details. Her temperament of ant is powered by a creative genius, which contrasts with her tendency to always keep a low profile.

Her first release was made with the presentation of a collection of beach wear which was successfully acclaimed in New York. Then she made a freelance tailor-made, ready-to-wear, etc… She founded a tailoring workshop and presented numerous fashion shows in New York, Miami and Haiti to display her new collection of swimwear and women's clothing (Body Designs, Creations FYLM, Silhouette, and Coin d'Or...) and has also made designs for magazines such as Playboy, "Sourire" Magazine of Claude Mancuso...

After having spent a few years in the USA exploring various areas of fashion, Madeline decided to establish herself in Haiti, her country. She realized that the conception of stage costumes and accessories gave her much pleasure and unlimited satisfaction and therefore chose to stick to that way. Her experience in the design of clothing worn by Yole and Ansy Dérose during their many shows has contributed significantly to refine her talent for theatrical costumes.

Locally, the experience of Madeline Ledan is very broad; she has dressed performers and singers Yole and Ansy Dérose, dancers of the "Folkloric Haitian Ballet" (Ballets Folkloriques d'Haiti), singers James Germain and Emeline Michel, presenters of Carnival 2000 at the television station Télémax, "Caminito" dancers and, occasionally, those of the Jean-René Delsoin Dance Company. She made the costumes and accessories for the hostesses at the opening of the Currency Museum of the Bank of the Republic of Haiti (Musée de la Monnaie de la Banque de la République d'Haiti). She created the majority of costumes and accessories for the video clip "Van Vire" by Wyclef Jean at the 2006 Carnival in Haiti. She has also designed costumes for the celebration of National Flag Day on May 18th, 2007 and the festivities of Carnival 2008 in Port-au-Prince and at this occasion, she was the coordinator of the fashion show for the cultural Carnival event "Star Parade". She made outfits and accessories worn by the extras during the presentation of the DVD Haiti, Land of Fire (Haiti, Terre de feu) at Tara's and at the "Sugar Cane Historical Park" (Parc Historique de la Canne à Sucre). She is a member of Yole Dérose Productions and has made all the costumes of the famous creations "In The Name of Atlantis"(Au nom de l'Atlantide), "Woman" (Femme), "Haiti, Land of Fire" (Haiti, Terre de feu)... She has created clothes for artists and some models participating to the gala to celebrate the memory of Ansy Dérose in November 2008.

Prior to the 2009 Carnival, Madeline has been an essential element in the success of the second edition of Star Parade by organizing and participating to an allegorical fashion show presented by a dozen of designers representing various geographical Departments of Haiti.

On May 16th, 2009, at the evening launch of the AIDS Memorial Candlelight organized by Yole Dérose Productions, the public admired the fabulous costumes designed and produced by Madeline Ledan and worn by King Henry Christophe, Queen Marie-Louise and her Court. The lavish clothing of Emeline Michel, musicians and singers, created and also executed by our incomparable stylist, made a spectacular impression on the public.

Madeline Ledan, stylist with a special touch and unmatched creativity, lives in a magical world. With her fingers, she resumes silence hurt by words. She may also solicit the sentence infiltrated by silence. She floods the emptiness of color and life to create fruitful uproar. For her, the art of transforming simple materials into wonderful pieces of collection is a passion. Whenever it comes to creating costumes, period, historical, contemporary or allegorical ones, she always rejoices, from the stage of research and design through the final completion of the work.

Madeline Ledan is a true Poet of haute couture!